Most patients choose to have both liposuction and breast augmentation procedures done simultaneously, which in turn leads to a faster recovery and a lower cost than if done separately. This combined approach, which is very common nowadays, involves your surgeon removing fat from a desired area of the body and then re-injecting it into the breasts to give a more natural look to these newly enhanced areas.
Liposuction is a minimally invasive cosmetic plastic surgery where a surgeon breaks down the fat in the desired area and later removes it using a cannula (a vacuum-like tool). When you combine lipo with a breast augmentation, you can obtain optimal results in less time, all in one session.
Using liposuction to transfer fat to the breasts provides a natural look while reducing waste and molding your body and breasts all together in one smooth procedure.
How to Get Ready for Liposuction and Breast Augmentation
We recommend that before the procedure, you perform a preoperative expansion of the breasts, which entails the use of a special suction-pump bra for an indicated time to help expand the breasts. Doing this helps increase the efficiency of breast augmentations using body fat.
With this technique, as mentioned before, the patient first needs to use the special suction-pump bra to obtain the "pre-expansion" result. This device uses gentle and constant vacuum motions to expand the breasts gradually. The enlargement before an augmentation procedure makes for added space inside the breasts combined with an internal space specially made for the transferred fatty cells during the process. For best results, the patient should wear the special bra for at least a full week.
A study of 81 women who wanted a less invasive solution that did not include implants showed excellent results in both end product and satisfaction among patients who used the fat grafting and pre-expansion technique. The result was an outstanding breast increase (after one year) of about 8 fluid ounces on average. That represents a considerable increase in the 4.39 fluid ounces when using fat grafting alone.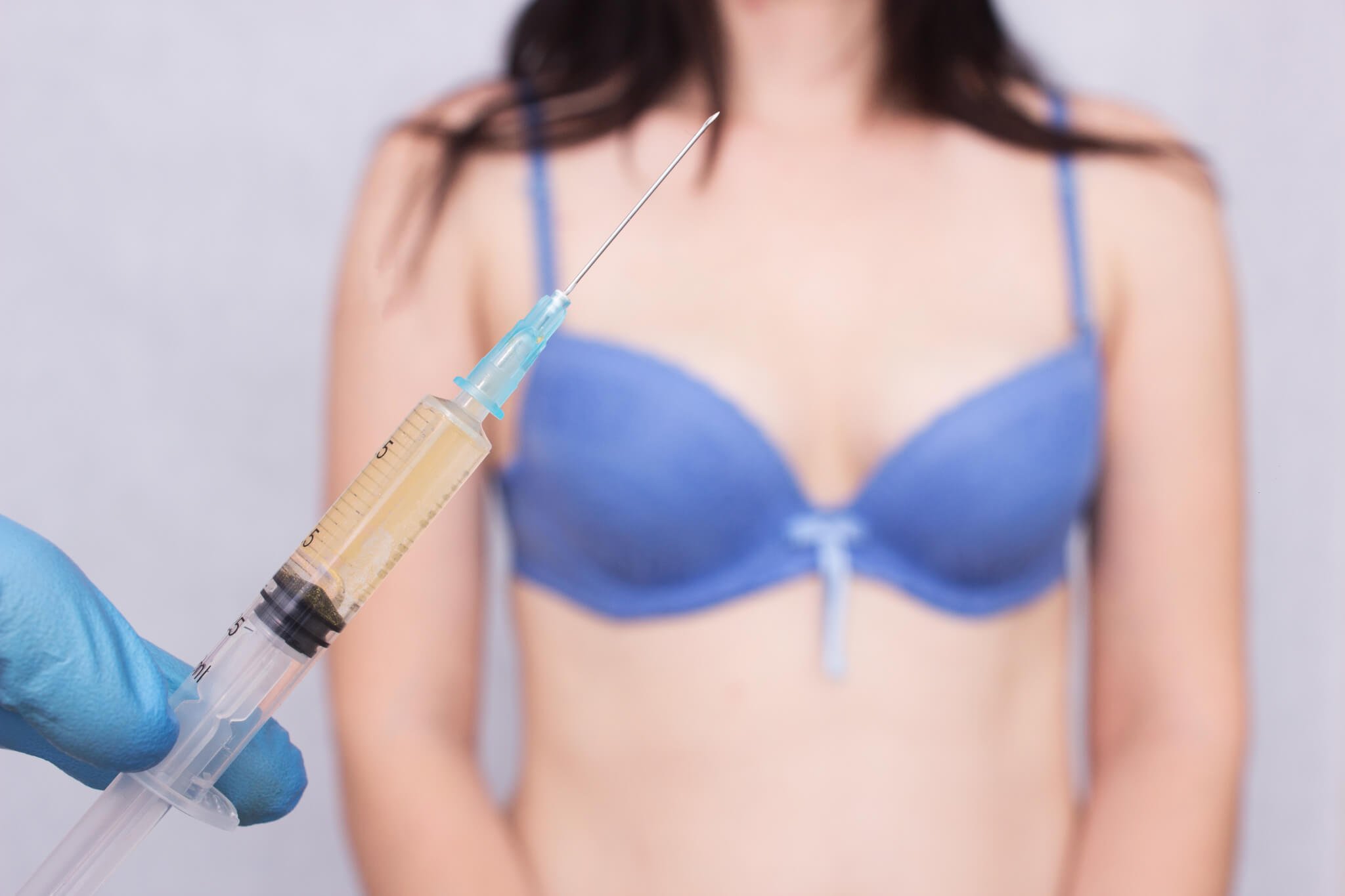 Best Results
While the notion of fat transfer for breast augmentation is not new, it has seen a spike in recent years with a vast amount of research showing positive outcomes for an increasing number of patients. An essential piece of information to keep in mind when making your decision is that the level of fat cells that survive liposuction alone is low and can limit post-procedure results. When you combine fat grafting with pre-expansion, it produces significantly more room within the breasts for the transplanted fat cells to survive and thrive. In some cases, women can expect to double their breast size in this minimally invasive, natural outpatient procedure.
Breast augmentation results should last for many years. The fat cells removed with liposuction will not return to the same areas, and fat cells that survive the transfer to the breasts will remain for a considerable amount of time. However, significant weight gain can affect your results, so maintain a stable weight by exercising regularly and sticking to a clean diet to keep your body looking its best.
The before and after results are almost instantaneous, and several critical bodily differences will become apparent right away after the combined procedures. The area where liposuction is done will appear sculpted and molded with a slimmer and fitter look. At the same time, the breasts are increased in size (proportionately) and shaped symmetrically. You can expect your whole body to change for the better after combining these procedures.