You understand where your trouble spots are, and you don't have the time to work out, but you know you want a solution. Liposuction is one of the most common cosmetic surgeries that someone can get, but like anything that provides lifechanging value, it comes at a cost. The average liposuction price is about $3,500. That being said, several factors can cause this number to go up and down. Furthermore, the area you choose to target with liposuction can affect the procedure cost as well.
How Much Does it Cost to Get Liposuction? The Answer, and Price, Can Vary
The Surgeon
You want to have faith in your doctor, since, after all, they will be performing your surgery no matter how common it may be. Your doctor's experience will affect the cost to a varying degree. The more reputable the surgeon, the higher the surgery may cost, yet this is not always a direct relationship. Although the experience is a massive benefit to you, the varying cost for similar procedures explains why it's essential to shop around. Schedule at least two different consultations before making a decision.
Type of Liposuction
There are various ways to break down the fat before extracting it. Radiofrequency energy, ultrasound waves, freezing temperatures, and lasers have been proven to provide effective results, but these methods imply more expensive equipment. These techniques also require more training, which circles back to the experience of the surgeon. Ultrasound-assisted liposuction, for example, uses costly equipment and could be several hundred more dollars than you are willing to spend. 
Take a look at the different methods that can be used to make your liposuction even more successful. The more traditional route of having fat removed through a cannula while it is moved back and forth may be the best option, especially if the cost is a significant concern. Note that in most cases, the likelihood of scarring exists.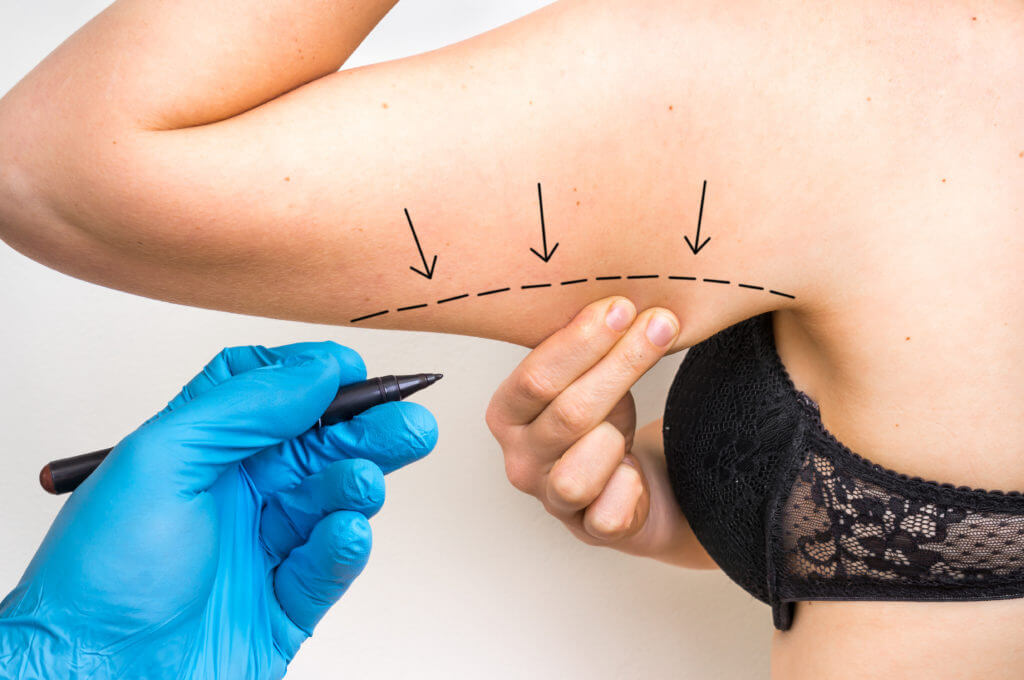 The Area: What Liposuction Costs For Each Body Part
The more areas of your body that you choose to have the procedure performed, the longer the treatment will take. Typically a patient is billed by how long a procedure will last. Larger areas like your whole abdomen will take longer than a small body part like arms. Therefore, the cost of stomach liposuction will range between $4,000 to $10,000, depending on how much fat is removed. If you want to remove fat from not just the stomach but the love handles as well, your total will increase to an average between $5,000 and $15,000. Conversely, arm liposuction prices are much lower, with average costs between $2,000 and $4,500.
If the area requires a little bit more toning and delicate attention, such as the neck or face, then that would necessitate a more technical procedure. With a more specialized process also comes more time being in surgery, which in turn translates to increased cost. Therefore, this procedure will fall in a comparable price range to the arms or even higher. We estimate that face liposuction alone will cost you as little as $2,000 or as much as $6,000, while neck liposuction prices are between $1,000 and $5,000. If you want to remove a double chin with liposuction, expect to pay more than you would for chin liposuction alone ($3,000 on average, compared with $1,500 for the chin liposuction on its own).
In other instances, your body type may affect the procedure length as well. If the patient has several fat deposits, for example, then they may need a more prolonged procedure to remove the extra fat and gain a smooth contour. That's not to say that only larger patients take more time in the operating room. Thin patients may need more delicate instruments to achieve the desired smooth contour at the end of a procedure.
Concluding Thoughts on Liposuction Fees and Financing Options
Choosing a surgeon is already a difficult process because you want the best possible results. Someone that you can trust will do your body justice and give you that ideal hourglass figure you want to accomplish. But then you have doctor experience as a significant factor working to increase the cost. The higher the skill level, the higher the price. The targeted area and time under anesthesia also do not work in your favor and can cause an additional financial headache. Liposuction is not covered by insurance, as this procedure is seldom classified as medically necessary. Finally, you may have to cover other expenses, such as fees for compression garments and prescription medication.
Talk to your doctor's office to find out all the hidden fees and payments you may have to cover beyond the surgery price. Also be sure to for a possible financing opportunity. The interest may make for a more extended billing cycle, but a lesser total upfront could render the amount paid for liposuction worth it for you.