Unwanted fat can be any adult's most prominent struggle. Despite committing to a strict diet and heading to the gym with a custom-curated exercise plan, stubborn pockets of fat may feel impossible to reduce or eliminate.
These 'trouble areas' of pronounced fat are usually located in or around the midsection, sides, butt, arms, and neck. Additionally, traditional methods of treating fat like liposuction can come with several unpleasant side effects, not to mention the long recovery period required. Such requirements explain why consumers are opting for less invasive fat reduction procedures instead.
Two specific types of body contouring procedures garnering significant attention nowadays are CoolSculpting and TruSculpt. Compared with traditional liposuction, both of these noninvasive treatments come with considerably less downtime, with the tradeoff of much less fat removed per session.
Keep on reading to learn how CoolSculpting and TruSculpt use different types of energy to break down fat without the need for any incisions or anesthesia.
The Comparison: CoolSculping and TruSculpt
A bundle of similarities exists between CoolSculpting and TruSculpt. Both procedures are noninvasive, meaning they require no incisions, general anesthetics, or needles. While both are used to break down and ultimately kill fat cells, their approaches nevertheless differ greatly.
Both TruSculp and CoolSculpting provide patients permanent results. Yet, having lasting results depends on patients maintaining their post-procedure weight. Therefore, we recommend that individuals stick to their healthy habits to fully enjoy either the changes brought about by either procedure.
Freezing Fat with CoolSculpting
CoolSculpting procedures destroy fat cells through the use of freezing temperatures. The process involves a tool called an applicator being applied to the treated body part. Some applicators vacuum in the patient's skin, while others rest on the body part without a suction effect.
When turned on, applicators administer freezing temperatures to the targeted body part. Fat cells, which decompose more quickly than other cells when exposed to extreme cold, drop to around four degrees Celsius during CoolSculpting. Surrounding organs and tissues are left unaffected. The procedure time typically lasts between 35 to 60 minutes, depending on the extent of the treated area.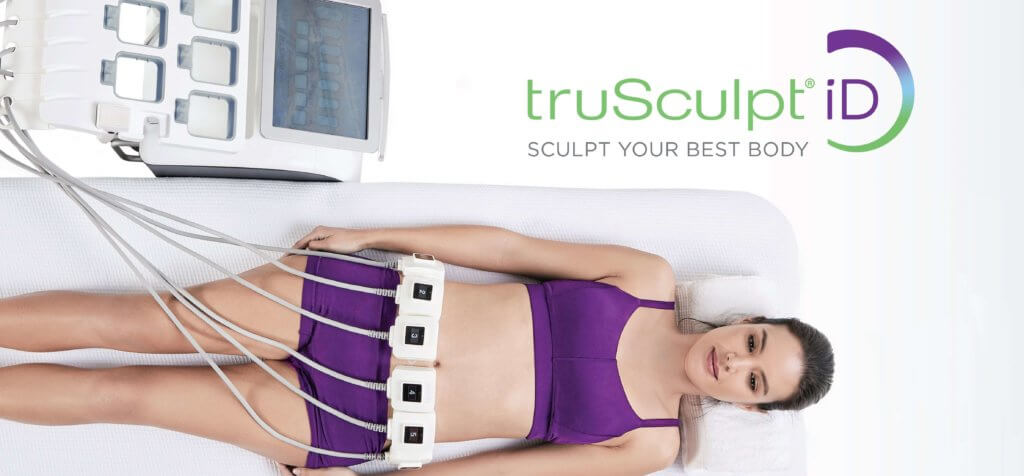 Side effects, such as temporary redness, swelling, and bruising, are typically mild and should subside after three to ten days. In rare cases, more severe CoolSculpting side effects may develop, but these should not be permanent either.
Melting Fat with TruSculpt
Instead of cold temperatures, the smaller TruSculpt applicators deliver radiofrequency energy that heats the fat below the skill. As fat cells absorb this energy, their average temperature elevates, and cells ultimately are melted. This method works because fat cells absorb heat more readily than other types of cells, thanks to their higher water content. In addition to destroying fat in a targeted body part, TruSculpt treatments simultaneously stimulate the skin to produce more collagen, assisting in keeping healthier skin.
Most TruSculpt procedures last about an hour and do not require downtime post-procedure. Noticeable results are seen after four weeks, but optimal results are apparent after three months. One essential detail potential patients should know is that TruSculpt, unlike most noninvasive fat procedures, is approved for use on individuals with a BMI above 30.
Extra Details
Both of these procedures are Food and Drug Administration-approved for body contouring. In both cases, optimal results usually present around three months after treatment. Clinical trials reveal CoolSculpting and TruSculpt procedures destroy a similar percentage of fat per treated area, in the ballpark of 20-25 percent.
Consult with your local providers to help intelligently decide which procedure you'd like to undergo.